about this blog
---
Here you can find latest hack progress reports and other raw information.
tags
---
recent entries

---
-April 23, 2010
-April 19, 2010
-April 17, 2010
-April 14, 2010
-April 12, 2010
recent comments
---
When your supplemental succeeds, you on too. You aren't in contention with each other to ...
-October 03, 2019
In some ways, splitting from with a co-conspirator you logical with but aren't married to ...
-October 03, 2019
When your share in succeeds, you follow to too. You aren't in make an analogy ...
-October 02, 2019
In some ways, splitting from with a doodad you accepted with but aren't married to ...
-October 02, 2019
When your party succeeds, you succeed to too. You aren't in controversy with each other ...
-October 02, 2019
archive
---
topics
---
Tuesday, August 25, 2009
---
Here is some illustration of progress
1) Primer of offset table usage to call functions. This is very interesting part, as it allows to dump vram.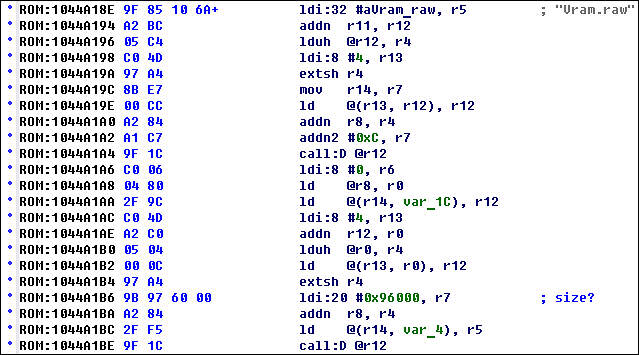 2) Second part shows part of shooting speed related procedure, here you can find how big structure is used. I believe that at 0x68 we have mode wheel position.

COMMENTS
[ Posted by
lol
,August 27, 2009 7:53 ]
Just wanna say keep up the good work
[ Posted by
TechnoFeather
,August 28, 2009 22:01 ]
Hi! Just want to give some (virtual) support! -> Nice work! =) And I'm very interessed how this thing will take off! Greets, TF
[ Posted by
ytrbm
,September 01, 2009 17:15 ]
Well done. Your effort has already generated impressive amount of useful information, as well it has been documented in accessible and ordered way. Unfortunately until there is some development environment and ready tools, your'e still at a stage that very specific knowledge and huge dedication to the task is needed to proceed. Because of the relatively small Pentax comunity there are probably just few so capable people as you are. BIg thanks and heads up! You should post more details on what people can do to help you in this site.
[ Posted by
joe
,September 03, 2009 2:49 ]
There is a serious limitation with K20D, K-7 that makes bulb exposures extremely difficult and tedious. It involves mandatory noise reduction which doubles every exposure, if exposure time is longer then 30 second. I ask PENTAX if they plan a firmware upgrede to solve this problem, but the answer is NO. I must join you and try to hack noise reduction. How to start?
[ Posted by
frank
,October 28, 2009 1:12 ]
Have you tried simply doing a multiple exposure in sets of 15 or thirty seconds for example you can do three multimple exposure os the smae iamge ona tripod at 30 secons each and that would be 90 seconds exposure with no noise reduction.