about this blog
---
Here you can find latest hack progress reports and other raw information.
tags
---
recent entries

---
-April 23, 2010
-April 19, 2010
-April 17, 2010
-April 14, 2010
-April 12, 2010
recent comments
---
for two weeks i have been asking how to use frmcrypt.exe, it loads in win7 ...
-October 04, 2014
hello I've discovered this site searching for the state-of-the-art about any pentax hack. With the ...
-May 29, 2013
Just a hunch. The last three digits are 505 for K5, and 504 for ...
-October 23, 2012
Is there a way to disable dfs on my K7 with v1.11 firmware?
-February 22, 2012
As a practical matter since you can stuff 100,000 files into a FAT32 file system, ...
-November 30, 2011
archive
---
topics
---
Shooting
Tuesday, August 25, 2009
---
Here is some illustration of progress
1) Primer of offset table usage to call functions. This is very interesting part, as it allows to dump vram.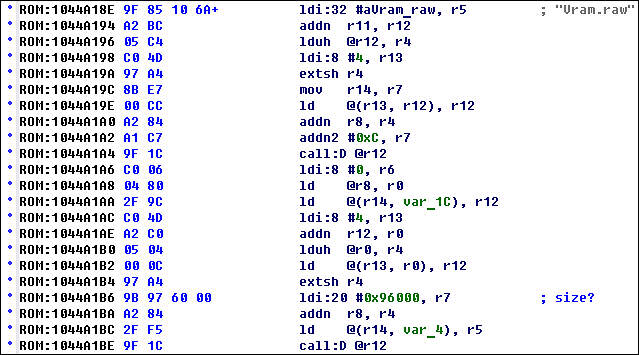 2) Second part shows part of shooting speed related procedure, here you can find how big structure is used. I believe that at 0x68 we have mode wheel position.